Recently two co-workers, a couple to be precise, were finishing up their contract at the school I work for and it occurred to me- luckily before it did anyone else- that their apartment would be up for grabs. I ran to my supervisor and pleaded for it and she warned me: this apartment would cost me extra. Thinking of the growing curvature in my back from leaning over for half a year in my shower and kitchen I begged to know the expense. She said with a heavy sigh, 100,000 won. Would I still be interested? Ladies and gentlemen, 100,000 won as of this writing translates to $80.47 US Dollars. Considering my last apartment in Boston was $750.00 with at least $200 extra dollars in utilities, involved two roommates at each other's throats, and was right next to the commuter rail line that made my room rattle when it passed like in the Blues Brothers, I gave her a Cheshire Cat's grin. "Oh yeah, I can swing that."
Here's the digs: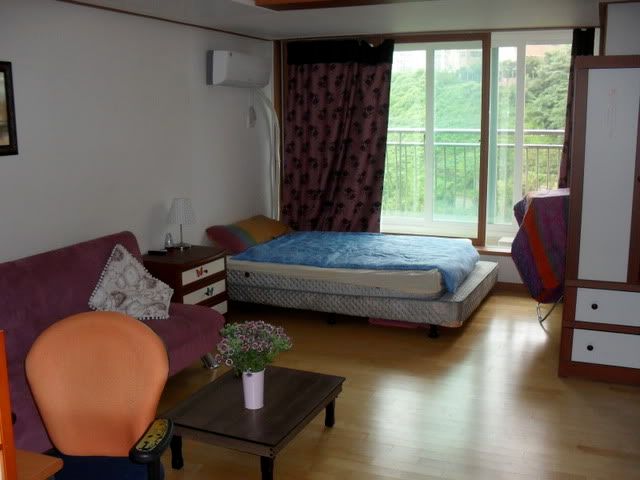 This is room is where the bed and couch are and it's already larger than the previous studio I lived in. Outside the gated balcony lies some of the most beautiful foliage I have seen in the concrete jungle. Now the best part..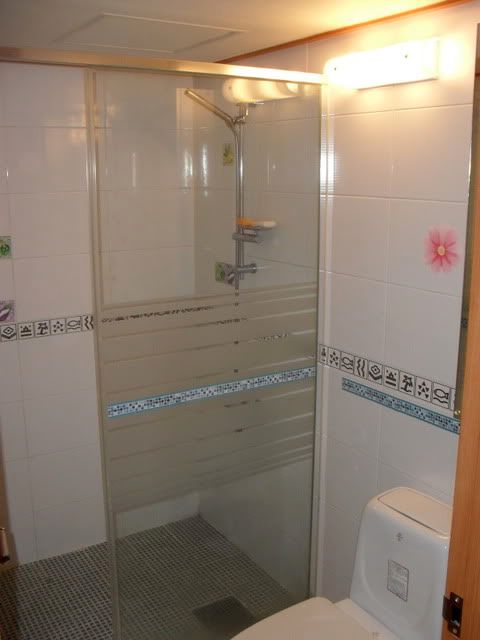 Hooooley shittttt. That was mainly the first thing I thought of when I saw this bathroom. I mean, hot damn that's a real shower! That is not a sink with a hose out the nozzle. That is a vegas hotel room shower stall. De-licious. My back feels better already.
The kitchen though is my favorite part.
I have an oven now! A kitchen table with chairs! There's a device I can put my wet dishes in to be air dried! A legit fridge! 80 bucks. All this can be yours for 80 bucks.
And the willingness to uproot yourself into an entirely new paradigm with an infant's grasping of the language but still....80 bucks.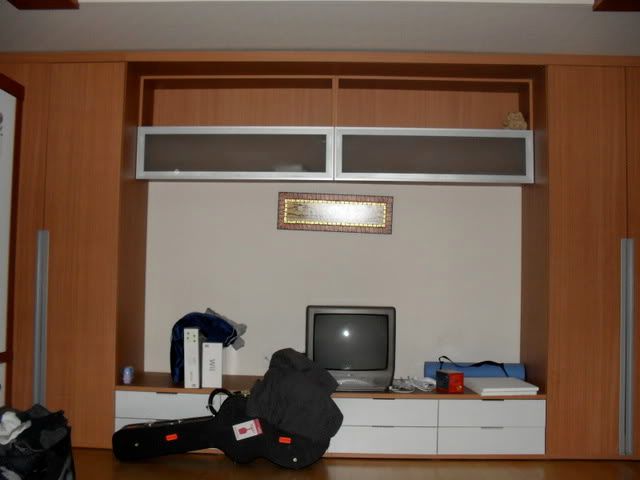 Those are my closets. That is my little bitty TV. It's actually a regular sized TV but compared to all the negative space around it looks like a golf pencil dropped into a mine shaft. That sounded grosser than it should have. Moving on..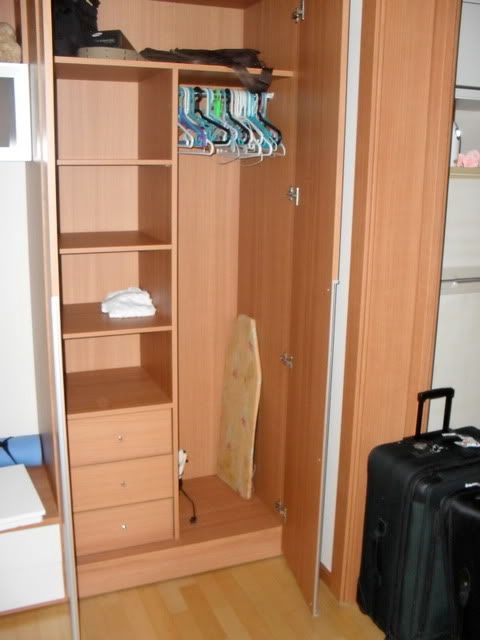 Inside one of said closets. The interesting thing about moving in here is that suddenly I want to spend money for no reason to fill up all the space but common sense is staying my hand.
Moving into this apartment marks the start of my sixth month here in Korea. I have a bicycle now with a basket, I can read Korean perfectly, I understand the language and can communicate moderately well in any situation. I am learning how to be an effective kindergarten teacher more and more everyday. It has truly been a remarkable shift in just half a year. It defines the phrase that a single day can change your life. So if you're on this side of the world, hey, gimmie a buzz. There's plenty of room on the couch for ya!
Thanks for stopping by!